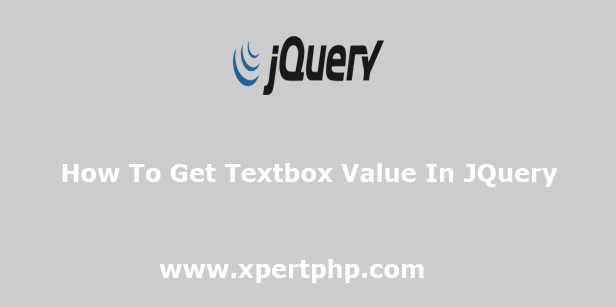 How to get textbox value in jQuery
How to get textbox value in jQuery
In this tutorial, we will explain to you how to get textbox value in jQuery. you can easily get the textbox value after the button click event or change event.
In this example, we are getting the textbox value using jQuery. we will get value using the particular element object. so here for get inputbox value, we are use val() function of jQuery.
So you can see below our example.
1

2

3

4

5

6

7

8

9

10

11

12

13

14

15

16

17

18

19

20

<

title

>

How

to

get

textbox

value

in

jQuery

-

XpertPhp

<

/

title

>

<script

src

=

"https://code.jquery.com/jquery-3.5.1.min.js"

>

</script>

$

(

document

)

.

ready

(

function

(

)

{

$

(

"#btn"

)

.

click

(

function

(

)

{

var

getVal

=

$

(

"#txtname"

)

.

val

(

)

;

<

input

type

=

"text"

id

=

"txtname"

/

>

<

button

type

=

"button"

id

=

"btn"

>

Get

Value

<

/

button

>
Please follow and like us: