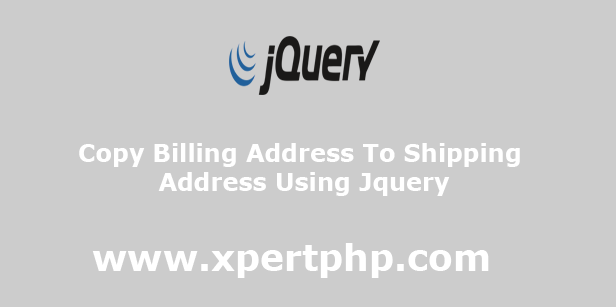 Copy Billing address to Shipping address using Jquery
Copy Billing address to Shipping address using Jquery
In this article, we will tell you how to copy the billing address to the shipping address using jquery. When a customer purchases any product at that time we need this example because most of the customer billing addresses and the shipping address are the same.
Now, we will create two-column first one is billing address and second one shipping address using the bootstrap. after, we will add the field in a first column and the second column like as billing address, street, city, country, email, mobile.. etc. but here fields name and id name are different.
When the customer entered the billing address and the customer goes to enter the shipping address, the customer will click on the "Same as Billing Address" checkbox that time will become billing address copy to the shipping address.
Now, you
1

2

3

4

5

6

7

8

9

10

11

12

13

14

15

16

17

18

19

20

21

22

23

24

25

26

27

28

29

30

31

32

33

34

35

36

37

38

39

40

41

42

43

44

45

46

47

48

49

50

51

52

53

54

55

56

57

58

59

60

61

62

63

64

65

66

67

68

69

70

71

72

73

74

75

76

77

78

79

80

81

82

83

84

85

86

87

88

89

90

91

92

93

94

95

96

97

98

99

100

101

102

103

104

105

106

107

108

109

110

111

112

113

114

115

116

117

118

119

120

121

122

123

124

125

126

127

128

129

130

131

132

133

134

135

136

137

138

139

140

141

142

143

144

145

146

147

<

title

>

Copy

billing

address

to

shipping

address

using

Jquery

-

XpertPhp

<

/

title

>

<

meta

name

=

"viewport"

content

=

"width=device-width, initial-scale=1"

>

<

link

rel

=

"stylesheet"

href

=

"https://maxcdn.bootstrapcdn.com/bootstrap/3.4.0/css/bootstrap.min.css"

>

<script

src

=

"https://ajax.googleapis.com/ajax/libs/jquery/3.4.1/jquery.min.js"

>

</script>

<script

src

=

"https://maxcdn.bootstrapcdn.com/bootstrap/3.4.0/js/bootstrap.min.js"

>

</script>

<script

type

=

"text/javascript"

>

$

(

document

)

.

ready

(

function

(

)

{

$

(

'#copy_address'

)

.

click

(

function

(

)

{

if

(

$

(

'input[name="copy_address"]'

)

.

is

(

':checked'

)

)

{

$

(

'#shipping_address'

)

.

val

(

$

(

'#billing_address'

)

.

val

(

)

)

;

$

(

'#shipping_street'

)

.

val

(

$

(

'#billing_street'

)

.

val

(

)

)

;

$

(

'#shipping_city'

)

.

val

(

$

(

'#billing_city'

)

.

val

(

)

)

;

$

(

'#shipping_email'

)

.

val

(

$

(

'#billing_email'

)

.

val

(

)

)

;

$

(

'#shipping_mobile'

)

.

val

(

$

(

'#billing_mobile'

)

.

val

(

)

)

;

var

country

=

$

(

'#billing_country option:selected'

)

.

val

(

)

;

$

(

'#shipping_country option[value="'

+

country

+

'"]'

)

.

prop

(

'selected'

,

true

)

;

$

(

'#shipping_address'

)

.

val

(

""

)

;

$

(

'#shipping_street'

)

.

val

(

""

)

;

$

(

'#shipping_city'

)

.

val

(

""

)

;

$

(

'#shipping_email'

)

.

val

(

""

)

;

$

(

'#shipping_mobile'

)

.

val

(

""

)

;

$

(

'#shipping_country option:eq(0)'

)

.

prop

(

'selected'

,

true

)

;

<

form

class

=

"form-horizontal"

action

=

"/action_page.php"

>

<

div

class

=

"form-group"

>

<

center

>

<

h3

>

Billing

Address

<

/

h3

>

<

/

center

>

<

/

div

>

<

label

class

=

"control-label col-sm-2"

for

=

"billing_address"

>

Billing

Address

:

<

/

label

>

<

input

type

=

"text"

class

=

"form-control"

id

=

"billing_address"

placeholder

=

"Enter Billing Address"

name

=

"billing_address"

>

<

label

class

=

"control-label col-sm-2"

for

=

"billing_street"

>

Street

:

<

/

label

>

<

input

type

=

"text"

class

=

"form-control"

id

=

"billing_street"

placeholder

=

"Enter Street"

name

=

"billing_street"

>

<

label

class

=

"control-label col-sm-2"

for

=

"billing_city"

>

City

:

<

/

label

>

<

input

type

=

"text"

class

=

"form-control"

id

=

"billing_city"

placeholder

=

"Enter City"

name

=

"billing_city"

>

<

label

class

=

"control-label col-sm-2"

for

=

"billing_country"

>

Country

:

<

/

label

>

<

select

id

=

"billing_country"

name

=

"billing_country"

class

=

"form-control"

>

<

option

>

-

select

country

-

<

/

option

>

<

option

value

=

"india"

>

India

<

/

option

>

<

option

value

=

"usa"

>

USA

<

/

option

>

<

option

value

=

"africa"

>

Africa

<

/

option

>

<

label

class

=

"control-label col-sm-2"

for

=

"billing_email"

>

Email

:

<

/

label

>

<

input

type

=

"email"

class

=

"form-control"

id

=

"billing_email"

placeholder

=

"Enter email"

name

=

"billing_email"

>

<

label

class

=

"control-label col-sm-2"

for

=

"billing_mobile"

>

Mobile

:

<

/

label

>

<

input

type

=

"number"

class

=

"form-control"

id

=

"billing_mobile"

placeholder

=

"Enter Mobile Number"

name

=

"billing_mobile"

>

<

div

class

=

"form-group"

>

<

center

>

<

h3

>

Shipping

Address

<

/

h3

>

<

/

center

>

<

/

div

>

<

div

class

=

"col-sm-offset-2 col-sm-10"

>

<

label

>

<

input

type

=

"checkbox"

id

=

"copy_address"

name

=

"copy_address"

>

Same

as

Billing

Address

<

/

label

>

<

label

class

=

"control-label col-sm-2"

for

=

"shipping_address"

>

Shipping

Address

:

<

/

label

>

<

input

type

=

"text"

class

=

"form-control"

id

=

"shipping_address"

placeholder

=

"Enter Shipping Address"

name

=

"shipping_address"

>

<

label

class

=

"control-label col-sm-2"

for

=

"shipping_street"

>

Street

:

<

/

label

>

<

input

type

=

"text"

class

=

"form-control"

id

=

"shipping_street"

placeholder

=

"Enter Street"

name

=

"shipping_street"

>

<

label

class

=

"control-label col-sm-2"

for

=

"shipping_city"

>

City

:

<

/

label

>

<

input

type

=

"text"

class

=

"form-control"

id

=

"shipping_city"

placeholder

=

"Enter City"

name

=

"shipping_city"

>

<

label

class

=

"control-label col-sm-2"

for

=

"shipping_country"

>

Country

:

<

/

label

>

<

select

id

=

"shipping_country"

name

=

"shipping_country"

class

=

"form-control"

>

<

option

>

-

select

country

-

<

/

option

>

<

option

value

=

"india"

>

India

<

/

option

>

<

option

value

=

"usa"

>

USA

<

/

option

>

<

option

value

=

"africa"

>

Africa

<

/

option

>

<

label

class

=

"control-label col-sm-2"

for

=

"shipping_email"

>

Email

:

<

/

label

>

<

input

type

=

"email"

class

=

"form-control"

id

=

"shipping_email"

placeholder

=

"Enter email"

name

=

"shipping_email"

>

<

label

class

=

"control-label col-sm-2"

for

=

"shipping_mobile"

>

Mobile

:

<

/

label

>

<

input

type

=

"number"

class

=

"form-control"

id

=

"shipping_mobile"

placeholder

=

"Enter Mobile Number"

name

=

"shipping_mobile"

>

<

div

class

=

"col-sm-offset-2 col-sm-10"

>

<

button

type

=

"submit"

class

=

"btn btn-default"

>

Submit

<

/

button

>
can see following below code
Please follow and like us: